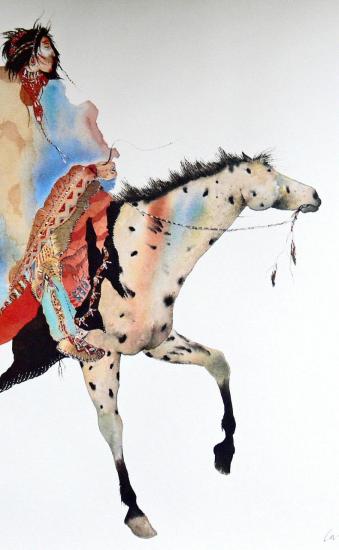 Echos...  

We can find many similarities between Carol Grigg's drawings and rock paintings and for a very good reason. She found her inspiration in cave art. Her Cherokee Indian roots were going to do the rest.

Apart from having a skillful line, shades and colours, everything in Carol Grigg's paintings takes us back to the rock art of our forefathers. Movement and time are captured.

Each painting is an echo of the world gone by; the world of the sacred union of man and Mother Nature, the world such as it was originally.

The only thing is that the drawings of the Lascaux cave go back up to 17,000 years and all the time spent up to now is called "evolution".

But the Indians did not get this chance. The world they were living in, is only a few decades away from us and its end takes us back to the dark moments of our history. Therefore, time can't be taken into account.

Although, the spirit lives on. The Indians drawn by Carol Grigg have a magnificence out of this world. They are on their way…

Entangled in the past but turned to the future, they will not fall into oblivion and they do question us about our humanity.
© S.Guillot - 2011