| | |
| --- | --- |
| | (1862 - 1918) |
---
LITHOGRAPH | 150th Anniversary of Gustav Klimt's Birth
In Partnership with the Leopold Museum (Vienna)

Handsigned & numbered Edition at 40 ex.

From Original Drawings of Gustav Klimt

For the first time in the world in Lithographs
From the drawing to its printing, this lithograph has been entirely realized by hand. With the same technical and artistic constraints, the same moves are made on the very same period machines. Drawn and printing colour by colour on "Marinoni Voirin" lithographic flat press of 1920.
---
Title : The girl with silk stockings sitting on the stool, 1910
(Sitzende mit gerafftem Rock / Seated Figure with gathered up skirt)
Publisher : FRANCE ART DIFFUSION
Technique : Lithography from an original drawing
Date of the lithograph : 2012
Origin : Leopold Museum, Vienna (Austrian).
Lithograph in 7 colors
Size : 59x87,5 cm / 23,2x34,5 inches
Paper : Velin d'Arches
Justification : Hand-signed & numbered in pencil by the lihtographer
Hand-signed in pencil by the publisher & the director of the lithography workshop.
Dry stamp of the publisher & the lithography workshop.


Note in pencil : Leopold Museum Vienna
CERTIFICATE OF AUTHENTICITY
---
Removal of Matrices after Printing
Once the printing of the lithograph is finished, we guarantee the destruction of matrices.
Its printing is made only once, with the number of expected editions.
---
Steps in the making of Gustav Klimt's Lithos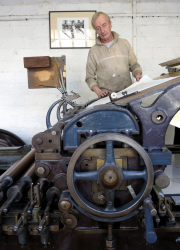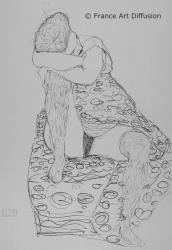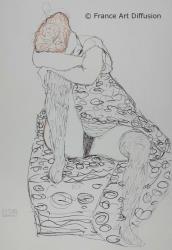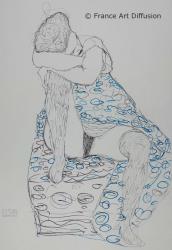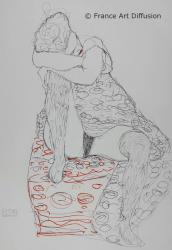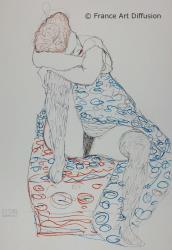 When the Present revives with the Past
The work from Gustav Klimt has been reproduced to excess : in all the shapes, all the colours, and by using all the modern printing processes.
Except for some very few and very rare prints, admittedly most of these copies are of poor quality.
For the 150th Anniversary of Klimt's birth, Stephane Guillosson from France Art Diffusion Gallery decided at the beginning of 2012 on the editing of 3 lithographs from original drawings. The Leopold Museum in Vienna and two art collectors have agreed on the project provided that it should be achieved in the respect of the Rules of the Art : with the requirements and under the very same conditions used at the time of the painter.
No more serigraphy, no more offset or digital printing, no more copy-paste. The only way to such an approach was indeed the process of Lithography.
Invented at the end of the 18th century, and used by all the world's great painters, this process is now dying. Thus, France Art Diffusion has called on the "Survivors", namely on the great names of the French Lithography.
Shown for the first time IN THE WORLD with a Lithography process, each drawing is stone-drawn again by Mario Ferreri and hand-printed, adding one colour after the other on a flat printing machine (a 1910 Marioni Voirin machine). With 40 copies being printed on special paper, numbered and signed by the Lithographer, this outstanding achievement is a masterpiece in its own right.
© FRANCE ART DIFFUSION