EGON SCHIELE | Lithograph | The girl with blue headband, 1912
EGON SCHIELE (1890-1918)
---
HAND-COLORED LITHOGRAPH *
The Girl with Blue Headband, 1912
NUMBERED & HANDSIGNED EDITION AT 65 EXEMPLARS ONLY.
For the first time in the world in lithograph *
Prior to this edition and despite information on various websites,
this drawing by Egon Schiele has never been printed in lithography.
The so-called lithographs (Langlaude editions) proposed by "Paris pics" , "Catawiki" & "Art fever" are indeed simple digital prints.
Lithograph realized in the Clot Workshop in Paris.
The Clot Workshop is one of the most ancient and famous lithography workshop in the world.
Since 1896, its name is associated with those of the greatest painters of the end of the 19th century to now.
Lautrec, Degas, Renoir, Rodin, Monet, Munch.... or more recently Foujita, Matisse, Calder, Soulages printed their artworks here .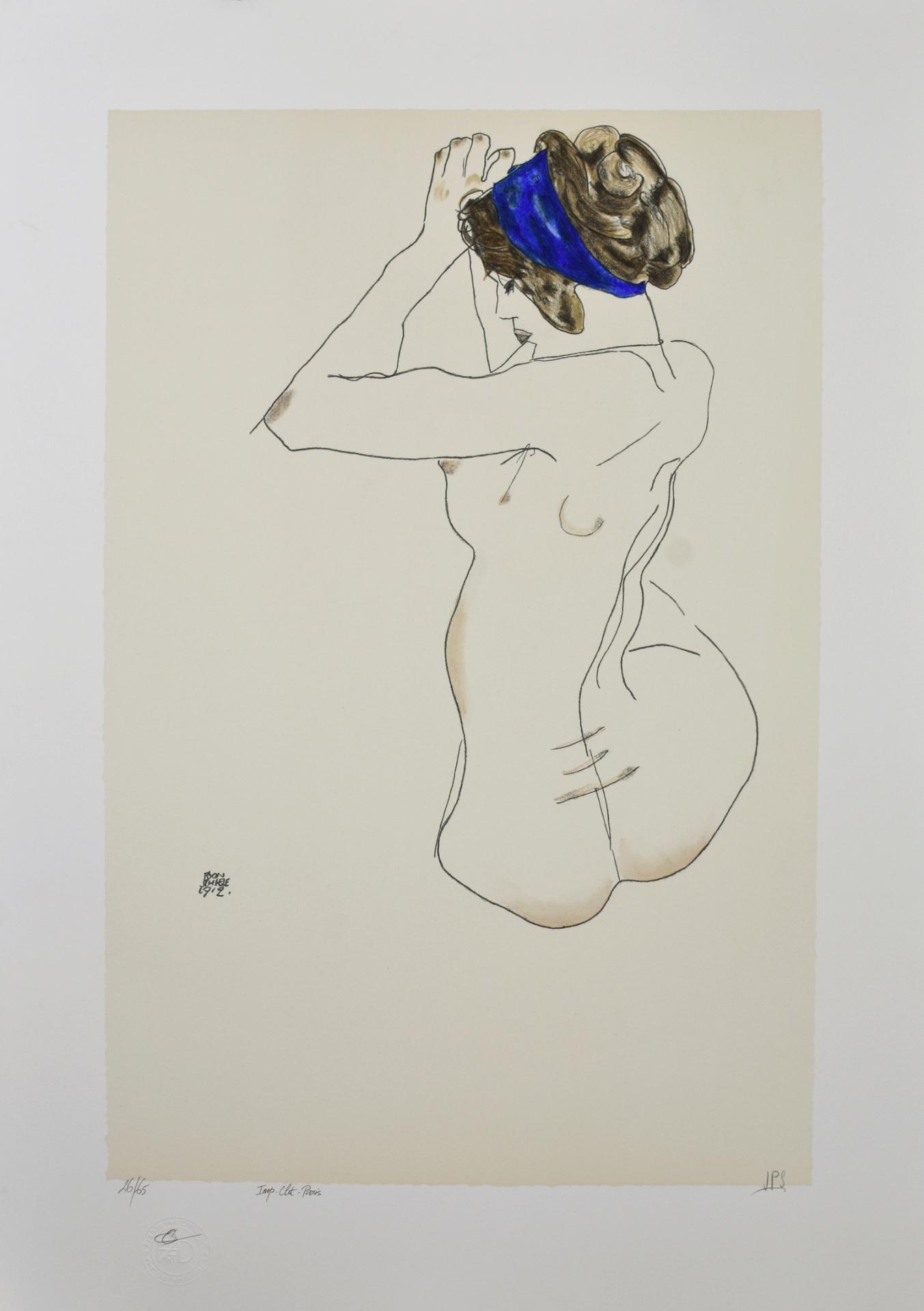 Title : THE GIRL WITH BLUE HEADBAND, 1912
Technique : Lithograph
Date : 2020
Publisher : FRANCE ART DIFFUSION
Size : 75,5x53 cm / 29,7x20,8 inches
Paper : Vélin d'arches 270g
Signature : Numbered & Handsigned by the lithographer
Handsigned by the publisher
note in pencil : imp Clot, Paris (Clot Printer, Paris)
Dry stamp of the publisher
CERTIFICATE OF AUTHENTICITY
Price & information on request : info@franceartdiffusion.com
---
ATELIER CLOT : A PLACE STEEPED IN HISTORY
Having a litograh printed at the Atelier Clot is in many ways a unique experience.
This atypical place is more than a workshop ; it is where history and know-how are merging.
Every single corner is highlighted with the past ; not one stone, not one roller or one printing press that does not echo back to it.
For more than 120 years, the Atelier Clot has been linked with the greatest names in Painting.
Lautrec, Degas, Renoir, Rodin, Monet, Munch.... or more recently Foujita, Matisse, Calder, Soulages…
This list is so prestigious that we do not get tired of declaiming it.
Printing a litograph at the Atelier Clot is expecting more than just the successful achievement of a project.
It is wondering if places and machines may have a memory.
It is spreading History on paper.
© François Delan pour FRANCE ART DIFFUSION