MARCEL DUMONT | Introducing | Lyrical Abstract Paintings


Abstract Painting - Lyrical Abstract Painting
Visions from the inside
François Cheng of the Academie Française talking about Marcel Dumont
"He traced the hidden nature of elements, stones and trees, veines and foliage or patiently interiorized landscapes...
He did not stop at the external aspect of things.
Above all, he sought out the vital inspirations that give them life, the inner thoughts that inhabit them.
In this, he was close to the great chinese painters."
One of the master of the french abstract movement
His friend, the grat painter

Jean Bazaine

and

Jean Cocteau

understood very well that

Marcel Dumont

was a magician.
It is simplistic to define his work as abstract. His painting is more subtle. Il is like a photograph that has been sent to the developer.
Marcel Dumont's visions appear gradually.

Alpilles

(Provence, France)

and

Vercors

(the region in France) mountains ,

Olive trees

,

Apricot-trees

....
Little by little, he gives away his secrets and leads us to an almost figurative painting.
Shadows and light are revealed, landscapes take shape, the lines become sharper, there is magic at work.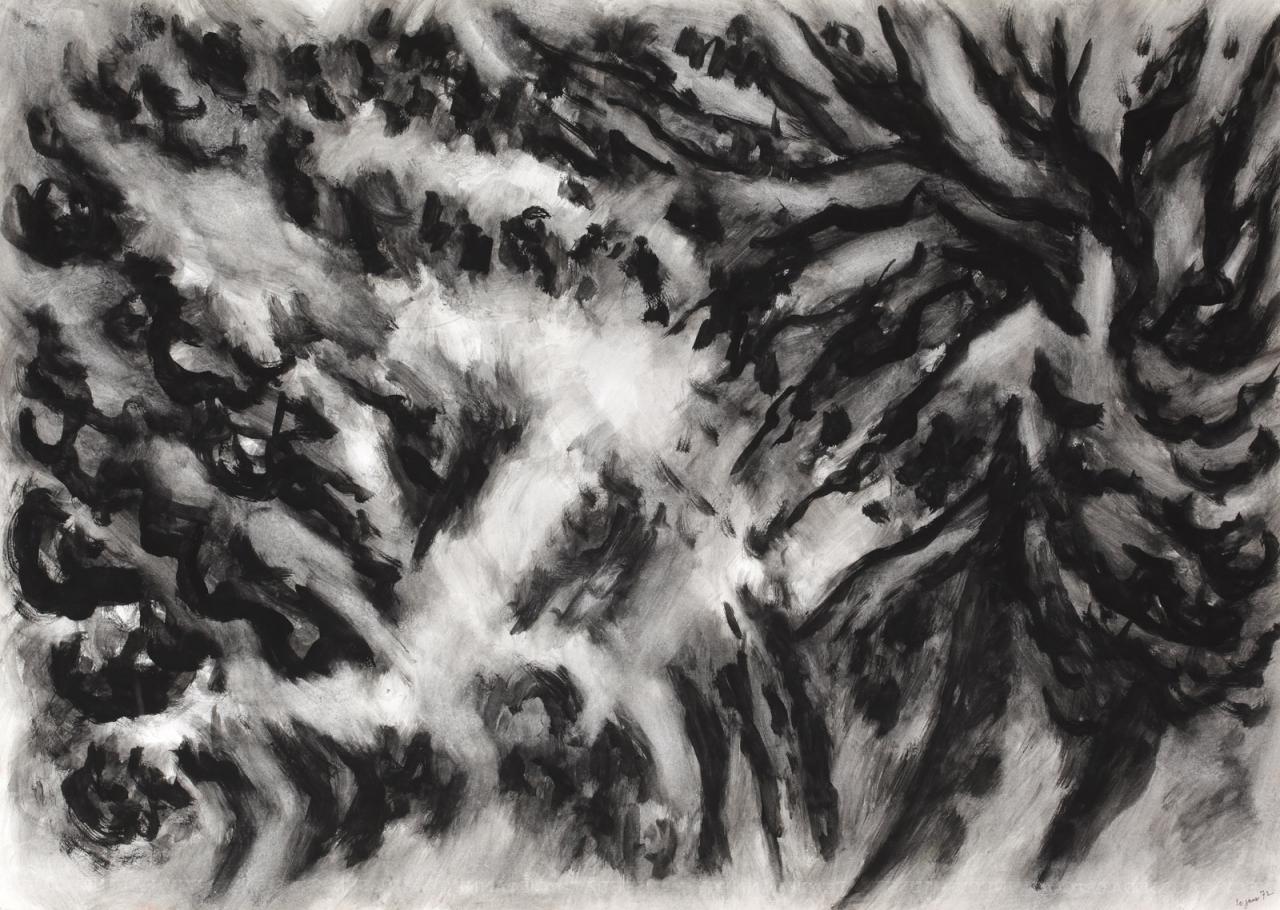 Marcel Dumont and the highlights & pictures.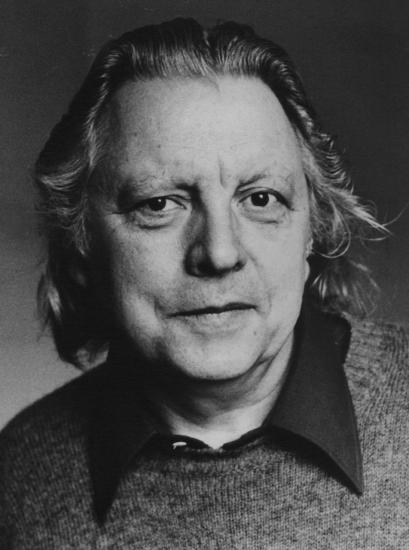 Marcel Dumont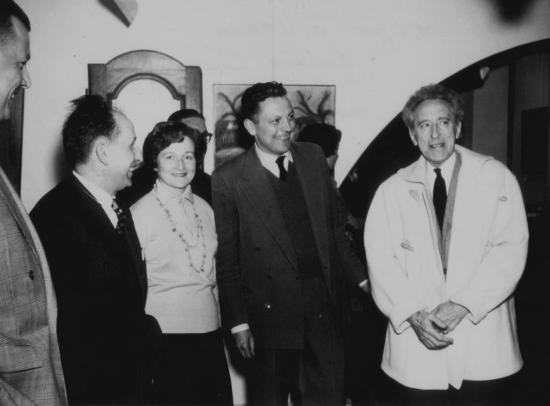 1958 - Exhibition to the Alphonse Chave Gallery in St Paul de Vence
Marcel Dumont (center) with Jean cocteau (right) & Dominique Ponchardier (left)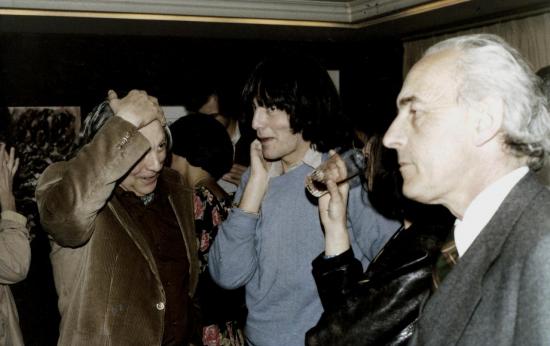 Exhibition in Lyon
Marcel Dumont (left) with the famous french philosopher André Glucksmann (center)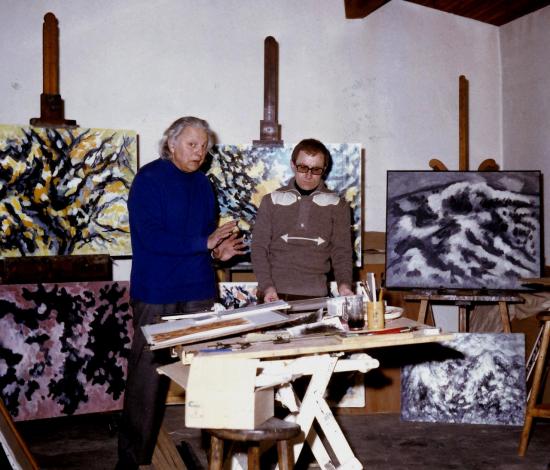 In his workshop
With the french poet Jean-Pierre Geay (left)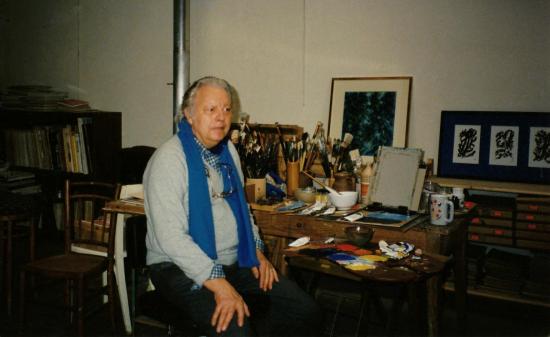 1921 – Birth in Douai – He started painting & drawing at the age of 14.
1940-1947 – He studied Philosophy in Lyon & Paris
1948 - Became Professor of Philosophy while continuing painting
1954 - First Exhibition at the Galerie Grange in Lyon – Portraits – Great compositions with Fusain : Portraits - Landscapes
1957 -

Second exhibition

at the

Galerie Grange in Lyon

- Meeting with

Alphonse Chave

, famous gallerist & contemporary Art collector
1958 -

Exhibition at the

Galerie Chave in Vence

– Meeting with

Jean Cocteau

. Great figurative compositions. Portraits and landscapes. Meeting with the Philosopher

Noël Mouloud

who became his friend..
1960 - Another Exhibition at the Galerie Grange in Lyon / Assembly pictures

1960-1961 - Exhibition at the Galerie La Jeune Parque à Lyon. Period of fingerprints, monotypes & gestural painting.
1962 - Important Exhibition with wax and Indian ink. Collective Exhibitions in Lyon & Paris.Film Directing by Pierre Hervo in Oyonnax . Illustrating the poems of Jean Perol.
1963 - .Appointed Professor in Salon -de -Provence. He settled in the Alpilles and worked on rocks, hills and trees of the Alpilles. Important series of drawings, wash drawings, watercolors , pastels ...on the theme of the Alpilles
1965-1969 - Travelled in Spain & Italy. He settled in Aix-en-Provence.
1970 -

He gave up teaching following a car accident.
1971-

Retrospective at the Hotel Estrine in St Remy de Provence

« 10 years of paintings 1959-1969 »

He met

JP Geay
1972 / 1973 - Series of great watercolors & gouaches
1974 - Great Exhibition at

the Cultural Centre of Privas. JP Geay

wrote a book about him.

New series of assembly pictures & series of pen-and-ink drawings.

Rocks & Alpilles.
1975 - Exhibition being held under the patronage of

Rene Char

at the

Tourism Office "Isle sur la Sorgue »

-

In

side of an apricot tree . First drawings about

the Vercors

– Theme of the forrest
1978 - Exhibition at the Galerie Claude Aubry in Paris - Theme of the inside of Apricot trees – Meeting with Jean Bazaine
1979/1980 - Exhibition in St Remy de Provence
1981- He composed with the help of

J-P Geay

a bibliophily book intitled :

hills and orchards of Alpilles
1982 - Exhibition at the Galerie Claude Aubry in Paris : « 10 years of Painting in the Alpilles «
1983 - Another Exhibition at the Galerie Claude Aubry in paris - Meeting with François Cheng with whom he wrote two books of bibliophily. Meeting of P.A.Benoit & JL Meunnier with whom he wrote quite of few bibliophily books.And finally,Meeting with René Char.
1983/1985 - Publication of " When the earth is an orchard "by Jean - Pierre Geay – He worked in his house in Provence called "Mas des Renards" – mixed and multiple technnique- Wax, Indian ink, gouacheon the theme of "Trees and Rocks"
1985 -

He composed in 3 months 148 drawings for the " Book of my indoor gardens "- Major Book in 5 parts.
1986 - Exhibition at

Geneviève Goubains' in Salon de Provence

watercolours, gouaches & acryliques « Icon landscapes »
1988 /1989 - Exhibition at « Isle sur Sorgue » at Galerie Ceruse. Black and white drawings inspired by the forrest in Vercors.
1998 - Death of Marcel Dumont
2002 - Retrospective / Exhibition of Marcel Dumont Artworks in Avignon & Chateaurenand.